Digicel donates VT200,000 to help feed single mothers and widowers
May 7, 2022 12:39 am | Posted in Business News | Share now TwitterFacebook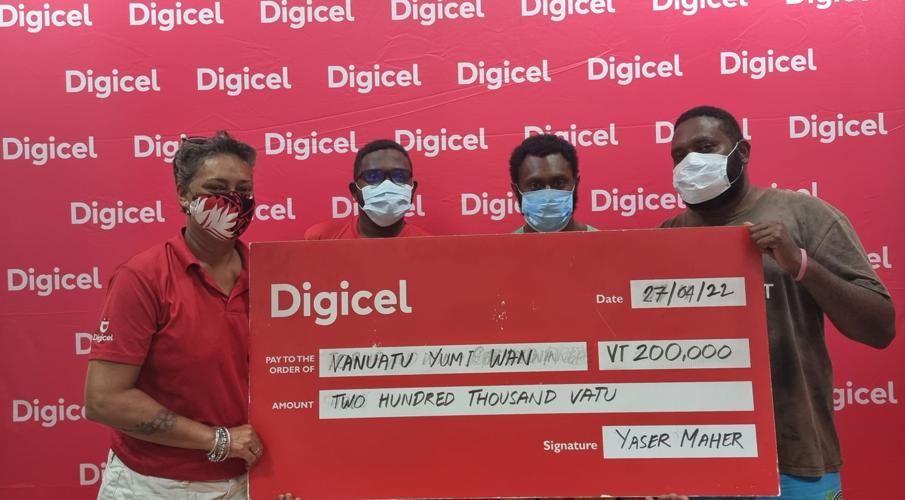 Digicel Vanuatu donated VT200,000 to Vanuatu Yumi Wan yesterday, to help vulnerable families suffering from job losses since the lockdown.
This is part the launch of their Your Tuff Tumas Brand Partner Campaign launched on April 1, 2022.
The campaign itself is to reassure the people of Vanuatu that Digicel Vanuatu is with them through the hardships they are currently facing and continue to do everything they can to help.
According to Digicel, the donation will help Vanuatu Yumi Wan, a community humanitarian initiative providing food, seeds and basic medication needed to families focusing on single mothers, widows and widowers and people with special needs in Port Vila and around Efate. In the last month since the Vanuatu Yumi Wan has been opened they have helped over 2000 members of the community in four weeks.
"During the time the lockdown was put in place due to COVID-19 we know many people have lost their jobs due to businesses closing and people have been suffering because of this," Digicel Vanuatu's Chief Executive Officer (CEO), Yaser Maher, said.
"It's important that we band together to support each other and this is what our new Your Tuff Tumas Brand Partner Campaign is about. We understand people are suffering because of the pandemic but we know the people of Vanuatu are strong and resilient enough to get through this if we all unite together to do so.
"For Digicel, we have put worked with the Ministry of Education to provide Free Access to schooling for Government Schools and students and also provided Student Home Packages to help students. Education is an important factor for the continued development of Vanuatu and the fact that we are in the middle of a Pandemic and schools are closed should not be the reason for children's education to come to a halt. Young minds need to be fed and through our Student Home Packages, we are offering more Data and the opportunity for students to access the learning they need."
Digicel Vanuatu commends the people of Vanuatu on their resilience and strength through hard times, as they have proved over and over again facing hardships from natural disasters to COVID-19 and are proud to support local communities during this time of need.