Confucius Institute launches Strategic Plan 2022-2026
May 10, 2022 1:23 am | Posted in Business News | Share now TwitterFacebook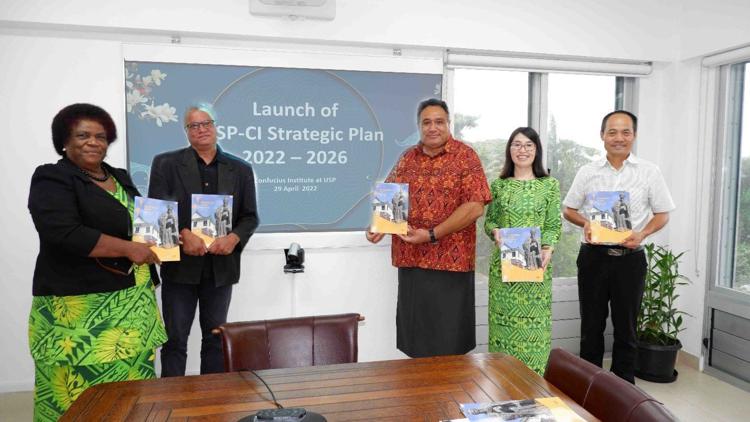 After nine years since its establishment at The University of the South Pacific (USP), the Confucius Institute (CI) launched its first Strategic Plan 2022-2026 on 29 April 2022.
USP Vice-Chancellor and President, Professor Pal Ahluwalia highlighted, "The high demand to study Chinese at USP allows us to create opportunities and engage with one of the most influential economic and cultural presence in the world today, China".
The Chinese Language is spoken by a third of the world's population, and the availability of the language and cultural programme through the USP-CI enhances the value of accredited degree programmes at USP.
The creation and alignment of the USP-CI Strategic Plan 2022-2026 to the University Strategic Plan reflects the continued commitment to shaping Pacific futures.
Deputy Vice-Chancellor and Vice-President (Regional Campuses and Global Engagement), Dr Giulio Masasso Tu'ikolongahau Pāunga, the Head of School of Pacific Arts, Communication and Education (SPACE), Professor Sudesh Mishra and other USP colleagues were also in attendance.
The Local Director of USP-CI, Dr Akanisi Kedrayate, introduced the Strategic Plan and shared the Vision, Mission, and Values of USP-CI.
She emphasised that USP-CI was working towards building a center of excellence in Chinese language and culture in the Pacific region.
Dr Kedrayate also reviewed the history of establishment and development of USP-CI in the past years.
The importance of aligning the plan and work activities in the plan with the partner university, the Beijing University of Posts and Telecommunications (BUPT), and with other stakeholders, which include the Chinese International Foundation of Education (CIEF) and the Centre for Language Educational, was presented by the Chinese Director, Dr Yang Hui.
Dr Hui said that USP-CI would work in close collaboration with these institutions for the next six years.
Dr Pāunga, in his speech, congratulated the achievements USP-CI obtained over the years and encouraged further successes and achievements through clear guidance and focus on work in the plan.
Professor Mishra suggested a closer working relationship with Oceania Center for more synergies and creative work on language and cultures to enhance cross-cultural understanding for the students and community.
The USP-CI Strategic Plan 2022-2026 sets the framework for each section's critical strategic issues and priorities within the over aching themes aligned to USP Strategic Plan: Shaping Pacific Future:2022-2024. The USP-CI team are committed to working hard to fulfil the vision and mission of this Strategic Plan.