CCECC repairing cyclone-damaged SANMA and Luganville stages
June 25, 2020 12:17 am | Posted in Business News | Share now TwitterFacebook
By Anita Roberts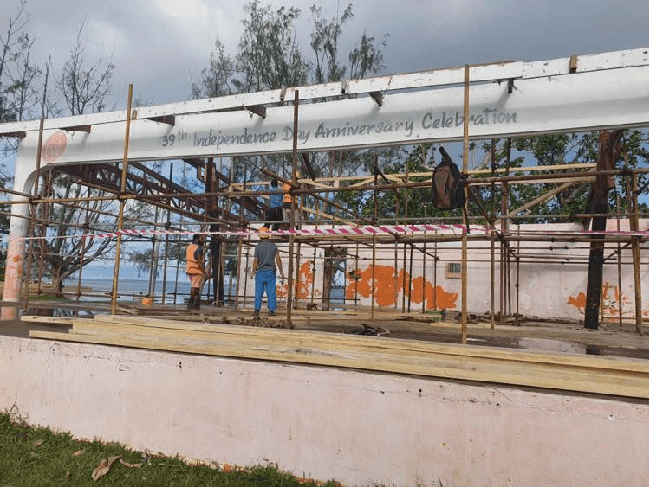 The Unity Park Stage in Luganville and the SANMA Provincial Government Council (SPGC) stage damaged by cyclone Harold are being repaired by the China Civil Engineering Construction Company (CCECC).
This came about following a verbal request from the Luganville Mayor, Peter Patty and the Secretary General (SG) of SPGC, Albert Ruddley, to China's delegates during a dinner function host during the Heads of Missions visit to Santo.
China's Ambassador, Zhou Haicheng, CCECC representatives and other delegates attended the dinner when the request was made, said Mayor Patty.
LMC has no funds to repair the Unity Park Stage which is the main independence celebration venue in Luganville, he stressed.
It costs approximately Vt5 million to repair both stages, the Mayor added.
The construction company has been given 20 days to complete repair works before Independence Day, he said
CCECC's Public Relations Officer, Harrison Selmen, said the company is happy to help SPGC and the Municipality recover from cyclone Harold.
"We (CCECC) will do our best to have the stage up before the 40th anniversary so everyone can celebrate together," he said.