ADB provides immunization vehicles
November 23, 2021 12:13 am | Posted in Business News | Share now TwitterFacebook
By Anita Roberts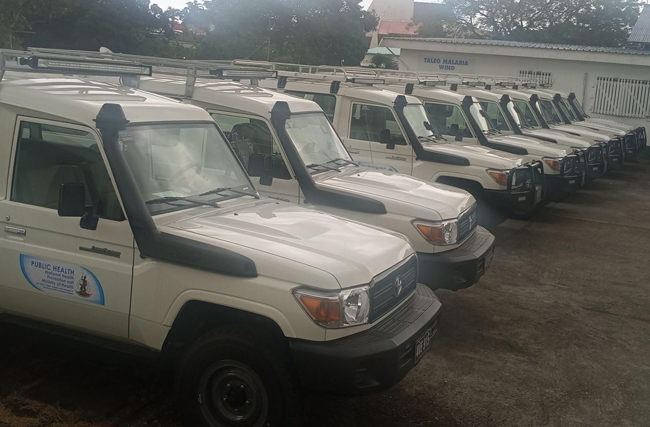 The Ministry of Health (MOH) yesterday received 10 vehicles from an Asian Development Bank (ADB) Project supporting immunization in Vanuatu.
Two of the vehicles were sent to TORBA Provincial Health. Two others will remain in Port Vila for the National Surveillance and Health Promotion Unit and the SHEFA Expanded Programme of Immunization (EPI) while the rest will be sent to other provincial health centers.
The project adopts a regional approach to strengthening critical components of health systems for improved immunization outcomes by introducing three vaccines -pneumonia, diarrhea and cervical cancer in Vanuatu.
Infrastructure Specialist of ADB, Shinjini Mehta, said that it is important to equipped provincial health centre with infrastructures, such as these vehicles to ensure vaccination reaches eligible population in all parts of the rural areas.
Minister of Health, Silas Bule, said the vehicles are much needed to drive vaccines into rural areas where health officers are finding hard to operate, due to road access difficulty.
Transporting services to remote areas is a need, he stressed. These vehicles can also be used to accelerate COVID-19 vaccination in remote areas, he added.
He commended ADB for its ongoing assistance to improving health service delivery.
He assured ADB that the health workers will take good care of the vehicles so that they can be used for a long time to meet needs in rural communities.